Meet world woman Brenda. She lives in the desert of Jordan
Love from the desert. This is how I usually close an email or message. In 2009 I emigrated to the desert in Jordan. To live in a tent. Eight kilometers from the nearest village, without electricity, with lots of sand, without water, with horses, surrounded by nature in the beauty and vastness of the desert.
Homesickness
I chose for Jordan after visiting it for the first time on a business trip; I had just become an importer of La Cure Dead Sea cosmetics and wanted to get to know the people behind the company. Visiting the Dead Sea and seeing a bit of Jordan. It was indescribable. It did something to me. I did not expect that. I was already homesick when I was on the plane back to the Netherlands, although I hadn't even been to the desert where I now live that first time. After three months I returned with my sons to get to know the country better. We have always traveled regularly, but mostly in Europe. That's how I've been drawn to Jordan every few months, like a magnet pulling me. I feel so at home here. After four and a half years I went to see if I couldn't live there. After six years of traveling back and forth, I emigrated.
Living in a tent in the desert
For me it was a dream come true. Even if it was only nine months, they may have been the best months of my life. It was hard to be so exposed to the elements. Scorching heat, so much rain that waterfalls and lakes formed in the desert, sleeping under wet blankets. All devastating storms; tents tore and flew away in the wind. Sandstorms that pushed the sand into every crack and mechanism. But above all the feeling of freedom, living in nature, working together with the elements, being happy with what is there, living together with my son, the volunteers, the horses, dogs that came running and a stray cat that behaved like a dog.
Desert Adventures
A salamander in the kitchen that we called Fred. A mouse with a tail like a squirrel. We therefore kept our food in vegetable crates hanging from the ceiling in the "kitchen". Every day the sun shone abundantly. The cozy gathering around the campfire where we made music and sang with volunteers and Bedouins. But we also looked for solutions to problems. For example, for a tractor with a full water tank stuck in the desert. Or a tractor that won't start. A Jordanian boy who drove a tractor and a full water tank into the cesspool, a generator that we couldn't use because it had probably been sabotaged. A 4×4 wheel pickup that was wrecked by my business partner's brother…
Gone with the wind
After nine months we moved to the village. Not voluntarily, my business partner had canceled because he was 'sick'. However, he came back after he got married and took over by force. I had to get out and it turned out that it was only used for the investment. Of course I didn't stop there. The business partner has ended up in jail several times because of my case. But my future and dream, the reason to emigrate, the horses and my place in the desert, everything was gone with the wind.
Getting myself together to that one wrong love
We put our shoulders to the wheel, my son, the volunteers and I. A new website for our travels was created. Guests kept coming. One of the Bedouins who often passed by in the desert took me into his family. We lived in the house next door to him. He knew my love for horses and bought a mare that lived in our yard. However, while preparing for a trip, I came across a man I felt a lot for. He asked me to come to Petra. I could see a future with him, I had already lost everything, except my own possessions. We got married and it felt good. Little by little, however, I became more and more restricted in my freedom, as he did all that God forbade, lying and deceiving. I only found out later. He wanted to make a Jordanian woman out of me and turned out to be extremely jealous and suspicious. At first you didn't notice that because you're in the middle of it, but step by step he went further and further beyond my limits.
I couldn't compete with a mentally ill man. But I couldn't just leave as a married woman either. After three years I managed to flee with the help of the embassy. Back to the village on the edge of the desert where I used to live. The Bedouin friend had reminded me several times that there was always a room for me in his house with then six children.
Fled to a voluntary 'prison'
I was no more than a shadow of myself. Barely 50 kilos at a length of 1.80 metres. Mentally strong yet bruised. Without self-confidence and without trust in other people. Arriving at my Bedouin friend's house, I was immediately taken to his parents in the house next door. His mother took my hand and said only habibti, habibti : my darling. His father, whom I call "Grandpa," sat there with tears in his eyes. I was not allowed on the street, but fortunately the yard was large. But the chance that my husband would demand me back and pick me up was also high. Ahmad, the friend who had taken me into his house, helped me to initiate the divorce. After almost three months I was allowed to take the bus to Aqaba alone.
It only got better after going out alone a few times. In recent years I was also chased by a stalker via the internet and email who wanted to destroy me and my company. And she and my ex-husband succeeded in that. But I didn't let it stop me, although I didn't dare to make myself visible anymore. There was work to be done to come to terms with myself, to face everything. I was in survival mode but took plenty of time to rediscover myself and get back to business.
Lose and get up
Ahmad's mother, my Bedouin friend, died a month after I arrived. A week before, we were sitting on the porch together. Her goats and her garden were her life. But she couldn't handle the work anymore. I then promised her that I would help her with the garden. Unfortunately we were never able to work on it together. But I kept my promise and the garden blossomed. It became a green oasis with vegetables, herbs and fruit in the yard of sand. Shortly afterwards I moved in with Grandpa. His age will be close to a hundred years. His mind is healthy, but his body is failing more and more. I became his caregiver and kept his house clean. I took care of Grandpa more and more, kept him company and cooked for him and Ahmad's family in the evenings. Taking care of someone made my own problems more bearable and I had a roof over my head, got good food and strength. In addition, Grandpa is a talkative man with beautiful stories. I learned to understand and speak Arabic better and better.
One more blow to deal with
Ahmad, however, was not well. He was getting sick more and more often but wouldn't give in to it. A few times he told me take care for my kids as a stand-alone comment when he got into his car, for example. His wife was pregnant with number eight. One morning, very early, his brother came by with his family: Ahmad had become unwell at work. With a lot of help, they were able to get him to the hospital he didn't want to go to. In the morning he was gone, a cardiac arrest. He always told me he wouldn't grow old, he knew he would die. I couldn't believe it, the only man I could trust, a hard shell with a heart of gold, was gone. I stayed with Grandpa. Like the pregnant wife of Ahmad and his children, he had a hard time surviving his youngest son. There was always family in the house and I visited every day. It was always Ahmad's wish that I go to the Wadi Rum, 35 kilometers away, to his best friend Abdullah.
A new future in the Wadi Rum Desert
I had known Abdullah for much longer. He was our guide on all trips in the Wadi Rum desert. Again I had guests and turned to Abdullah. He picked me up, gave me a room in the desert camp, bought horses to ride through the desert with guests and a dog, a Saluki who first stayed at the camp. I was picked up more often to train the horses and my stay in the desert got longer and longer but I couldn't leave Grandpa behind.
A year after Ahmad died I went to the Netherlands for a month. A brother and his family moved in with Grandpa during my absence. When I returned they stayed and I was too much. I was no longer allowed to perform my duties, which was to take care of grandfather and cook. All I could do was clean the house. The garden had been taken over by the brother's wife. I called Abdullah to pick me up and inquire about an empty house in his village. After a month I moved to a small village on the edge of the Wadi Rum desert.
Coming home
I have lived there for two years now. Finally I have arrived at my destination. With the horses around me, with the dog in the house. Almost from scratch I started again with Abdullah's help. We are getting more and more guests for our desert trips. My dream has become reality. I live the life I wanted to live when I emigrated, with great people around me. They too have welcomed me into their family while I live in my own house. In nine years I have learned endless lessons. I had to say goodbye to the people I loved the most. A book about my desert life in Jordan will be published next year, which I am writing now. Going back to the Netherlands was never an option. My life is here, in Jordan in the desert as a Bedouin among the Bedouins. Finally found what I was looking for. Came home.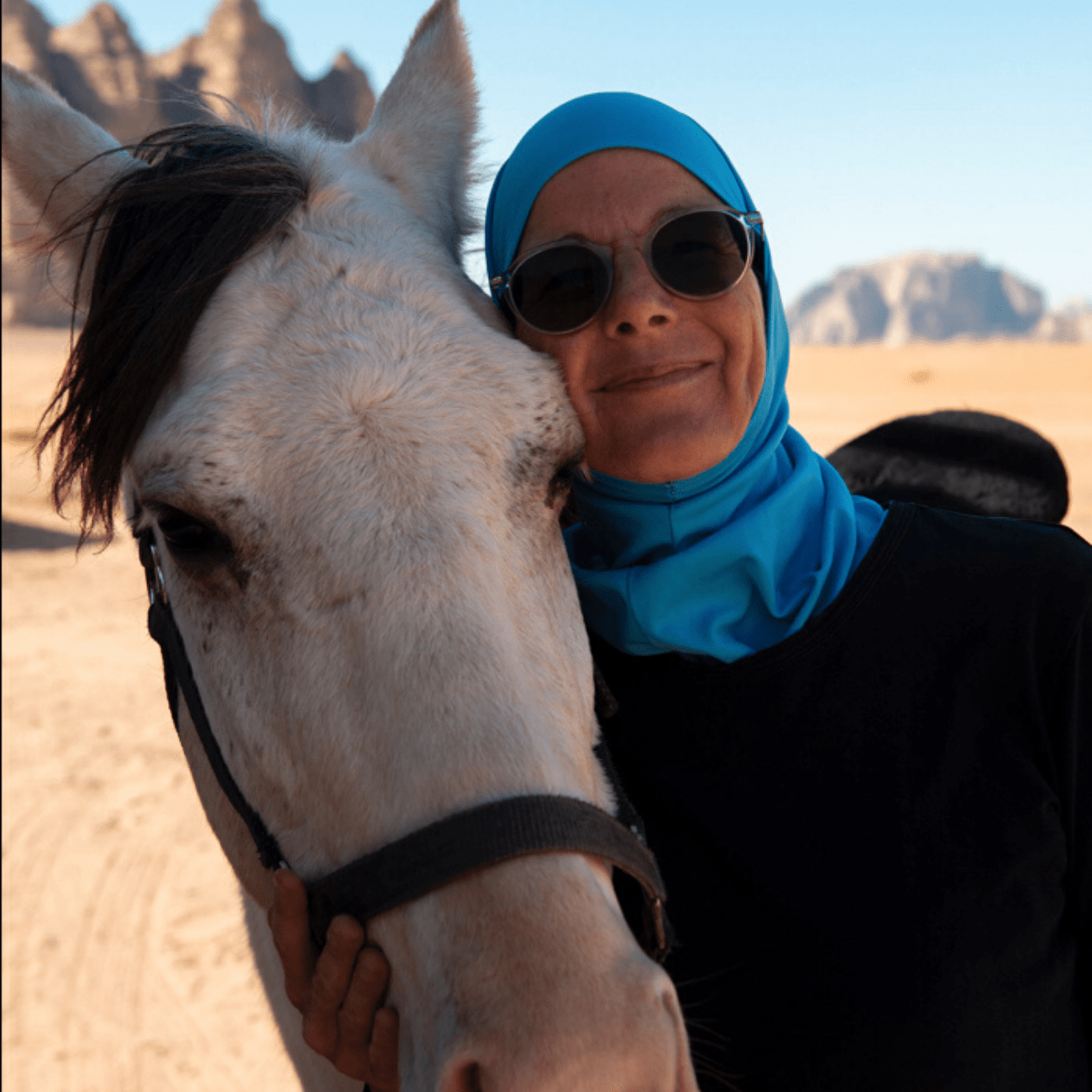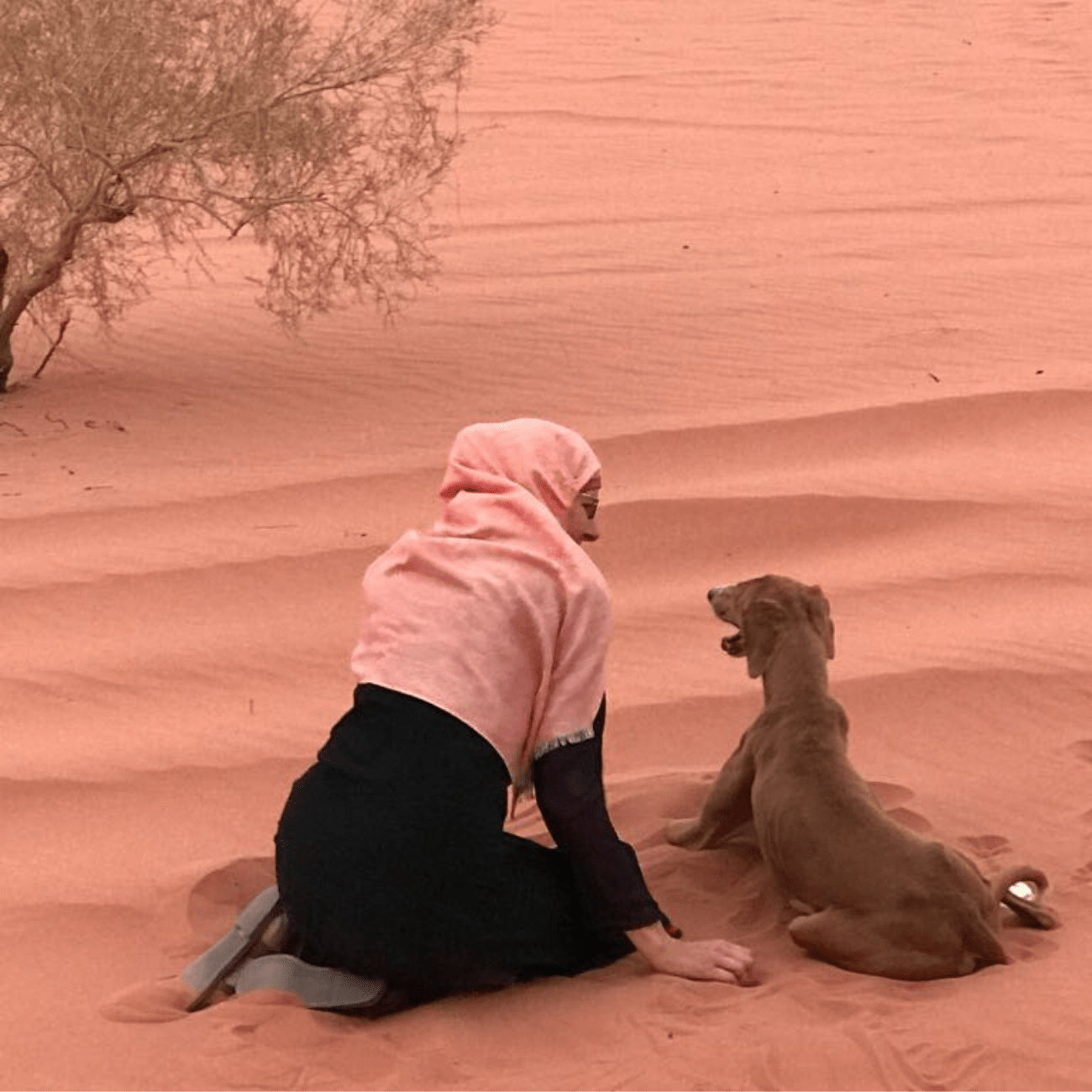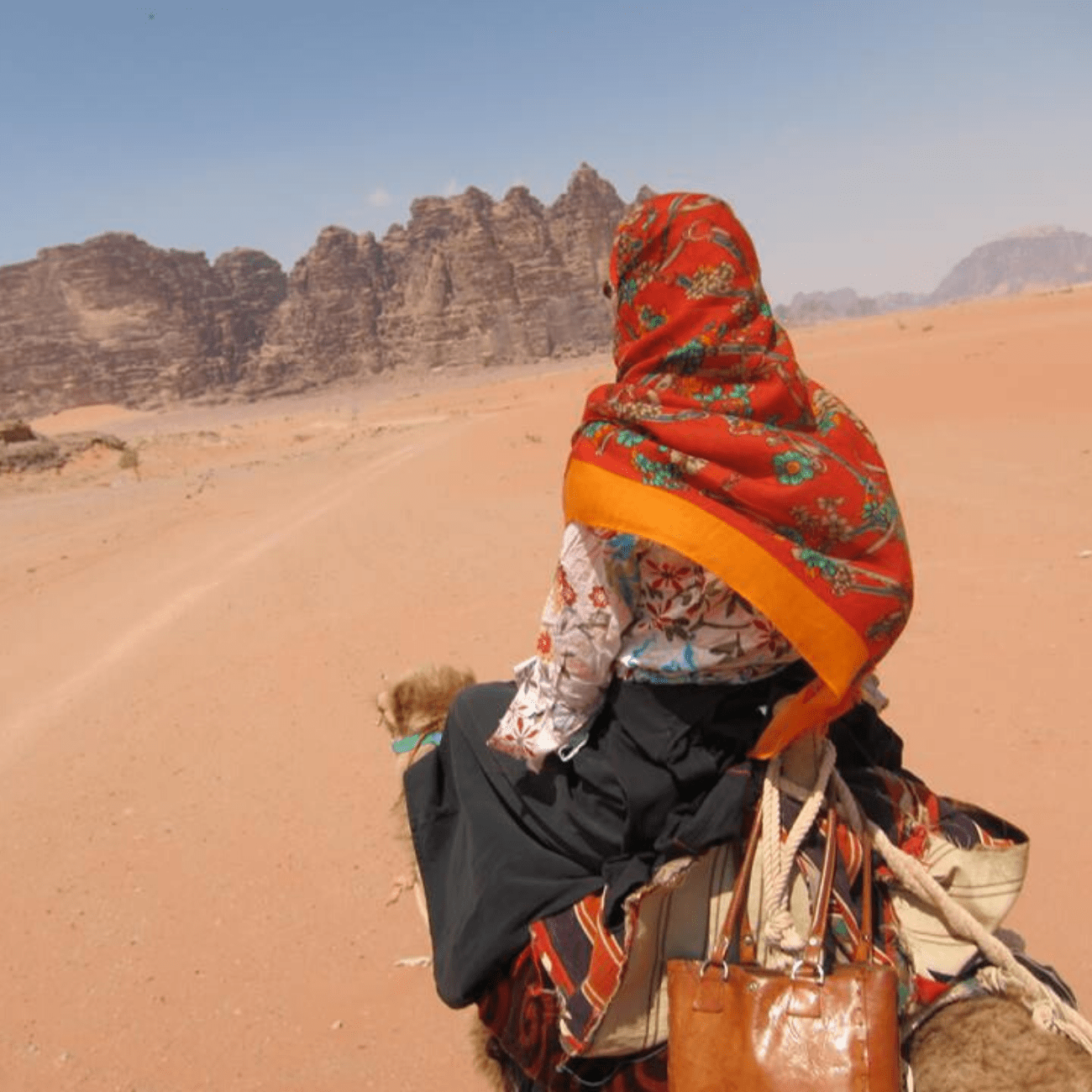 With love from the desert,
Brenda van den Brink
Marhaba (welcome) from Jordan. Brenda has been in an intimate relationship with the country of Jordan since 2003. In love with the desert, passionate about the Arabian desert horses, she left for Jordan in 2009 to live as a Bedouin in her beloved desert. The first 9 months in a tent, in the middle of nowhere. Her son and the horses around her. After a number of nomadic wanderings in different places, including Petra, she settled in the beautiful Wadi Rum desert. Together with colleague and "brother" Abdullah Alzwaydeh, she founded Jordan Desert Journeys. A real "family" business to let guests experience an authentic Bedouin life experience in the desert. An unforgettable journey, often together with the horses, camels, adopted stray dogs and local employees.