Create your own Eco Trip and travel with local Bedouins through Jordan
Experience Jordan with local Bedouins
Have fun and inspiration browsing through various complete titillating and extraordinary group tours.
With great dedication we will help you create your own individual itinerary.
Adventure excursions and surprising creative workshops can now easily be arranged online.
Our team will come together to give you the trip of a lifetime.
Experiences of previous travelers
Reviews
Dank jullie wel voor jullie uitgesproken waardering en mening over reizen met het team van Jordan Desert Journeys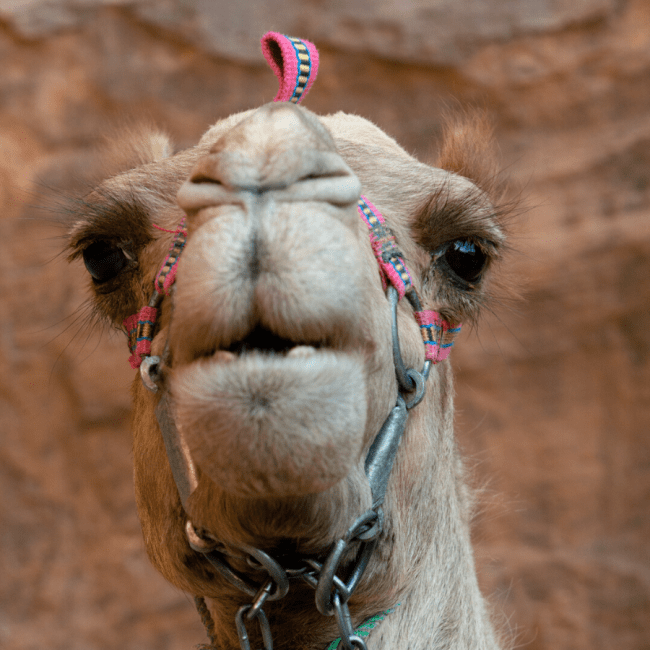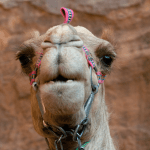 Dear Brenda, I hope you are well. I wanted to drop you a line to say thank you so much for the night in the desert a few weeks back. It was a wonderful experience, not least sitting around the fire and talking together with Marissa (I may not have spelt her name correctly) and the two Abdullahs. Your thoughts and advice were much appreciated, and I have thought regularly and fondly of that evening since. I'm now back in London and my time in Jordan enabled me to focus on my vocation. A plan is emerging, grouped around the theme of 'spiritual service': mediation, chaplaincy, peace making, men's work. It is an intriguing time. I wish you continued joy and fruitfulness with your retreats, which provide such important opportunities for people who are journeying in their lives. I will keep your six day retreat very much in mind and hope the opportunity to do this will emerge. Thank you again.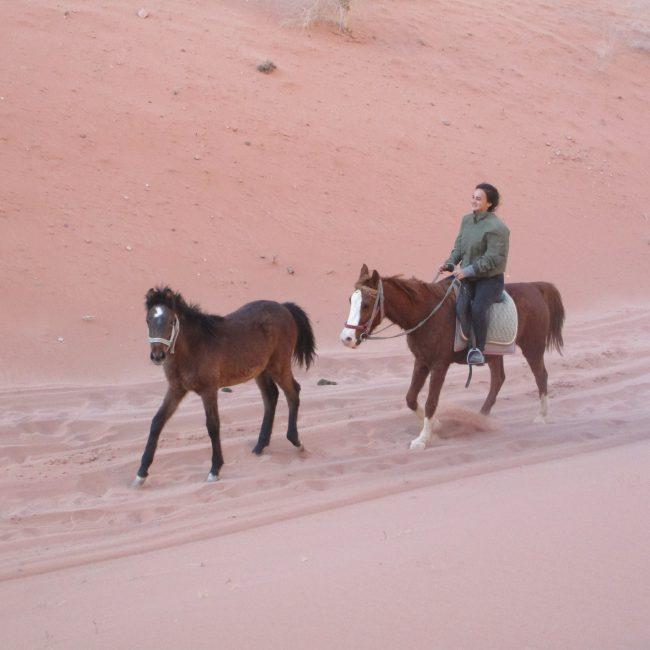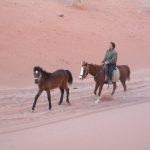 Thank you very much Brenda and the two Abdullah's!!! It was an amazing experience that we will cherish in our hearts. We couldn't be more grateful.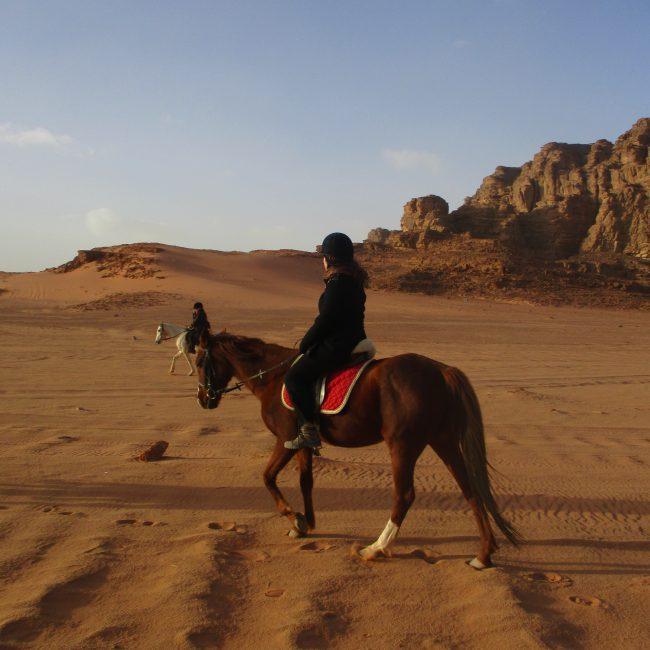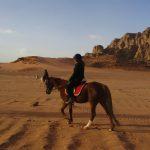 "We celebrated Christmas in the desert of Wadi Rum, with Brenda and the two Abdullahs. We started our trip with a two hour horseride, which was so beautiful and impressive, surrounded by the mountains, the stillness of the desert. A foal joined us, which made it even more spectacular. We continued our trip by jeep, and were happily surprised when one of Brenda's little puppies joined us. Janna was four months old, and great company giving our trip an extra touch. She was quiet, never barked, accompanied us when we walked through the desert, slept close to us, and gave us a lot of warmth, fun and kindness throughout the entire trip. We were sorry to leave her behind! "

I did a tour of Jordan with Carla. Brenda put together the tour for us, as she had the experience, and we would see all the highlights. She had arranged a private driver with car for our entire tour to pick us up on arrival in Amman. Our trip went to places where the tours by the major well-known travel organizations do not come. In the week we were there we said very quickly that the variety of the country is so great and every day was so different. In terms of nature, culture and temperature. And it has such beautiful vast areas. The view of the Dead Sea. Hot springs in Ma'in where we have been. The town of Dana which appears out of nowhere in the mountains. To Petra which was very magnificent and impressive. The Wadi Rum desert so beautiful with so many different colors, the silence, sleeping at night under the stars with the horses we had ridden. Aqaba, the modern city, and snorkeling in the Red Sea. And to end we had the special experience, floating in the Dead Sea, which was a beautiful end to this great holiday. And everywhere we went, the population was so nice! That certainly gave our holiday something extra. Thanks again Brenda and Abdullah!

Once back home I realize how special the trip, the desert and you were. It was great.
"Two different continents and cultures meet in what is called the most beautiful desert in the world, the Wadi Rum in Jordan"
Who are your hosts?
Brenda and Abdullah have been travel specialists throughout Jordan since 2010
Abdullah Alzwaydeh (Bedouin and local guide from the Wadi Rum) and Brenda van den Brink (now Bedouin in heart and soul according to the locals, from the Netherlands) met for the first time in 2010. At the time of their meeting, Abdullah spoke almost no English and Brenda spoke only a few words of Arabic.
Abdullah grew up as a Desert Nomad, in and around the Wadi Rum. He lived in a Bedouin tent made of goat hair with his parents, 5 sisters and 7 brothers, along with the camels, sheep and goats. Today, he lives with his own family next to the Wadi Rum nature reserve, and goes into the desert as much as possible.
Brenda immigrated to Jordan because she fell in love with the desert. She feels completely at home here and has a passion for horses. For the first 9 months of her life in Jordan, she lived in a tent in the middle of the desert, 8 kilometers from the nearest village, with her son and horses.
Passion for the desert
Their shared passion for the desert and their love for animals, especially horses, brought Abdullah and Brenda together to live a unique and free Bedouin life.
We invite you to join us in the desert for an authentic Bedouin experience that you will never forget.
Read more about us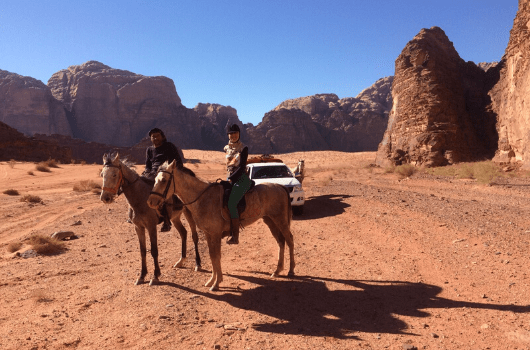 Inspiration, travel tips, desert blog Jordan
About Bedouin life, animal and plant life in the desert, retreats, culinary tips, culture and history Jordan, expeditions and of course tips, facts and news.
More travel tips Jordan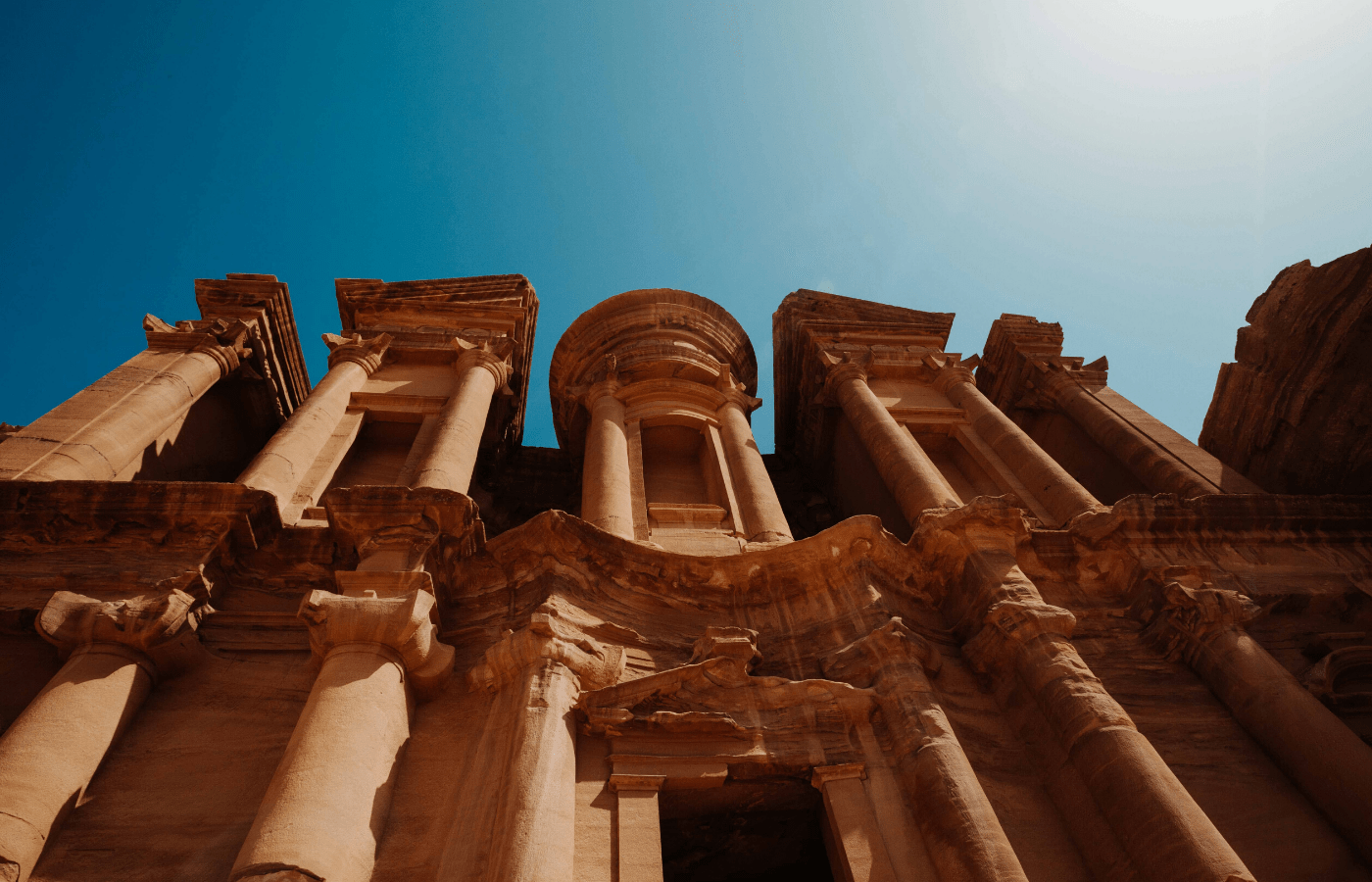 Are you that nomad, pilgrim or caravan traveler who traveled the deserts with or without herds of animals?
Authentic Bedouin life
Experience the desert like a Bedouin
In the evening, as everyone gathers around the campfire to exchange stories, you'll be taken into the local traditions.
The delicious scents of recipes passed down through generations of nomads, freshly prepared on the campfire will hypnotize your nose.
The stars, the planets, the Milky Way, and the moon will serve as your blanket. Do you know how a Bedouin finds his way through the vast desert at night? When was the last time you could see the Milky Way?
Traveling with Jordan Desert Journeys
Is an authentic way to experience the Wadi Rum desert, admire the most spectacular views and details and above all avoid the "main roads" for tourists. You will imagine yourself a nomad, a pilgrim, a traveling silk road salesman. Abdullah now speaks English, as well as a little bit of Dutch and Brenda has perfected her Arabic.
Jordan, Petra
During your tour in Jordan with Bedouins you should not miss Petra, one of the new 7 wonders of the world.
Dead Sea and Red Sea
Do you prefer floating in the Dead Sea or diving and snorkeling in the Red Sea with colorful corals and tropical fish?
Protected nature reserves
Dana, Wadi Mujib, Ajloun forests, Shaumari wildlife, Azraq wetland, Dibeen forests invite you for nature walks. Also Wadi al Ghuweir, Wadi Bin Hamed, Wadi al Hasa are besides Wadi Mujib (canyoning) interesting watercourses for walking and scrambling.
Roman and Crusader times
Discover the time and culture of Jordan through history. Several people have passed Jordan for longer or shorter periods. The Romans in Jerash, Amman, and Petra. The Crusaders in Kerak, Shobak and Petra and the Ottomans Salt, Amman, Ma'an.
In the theme trips you will discover many more gems in Jordan
View themed travel
Unique, personal, one of a kind trips.
Discover Jordan with Jordan Desert Journeys.