Team Jordan Desert Journeys
Travel Specialists in Jordan & Local Guides in Wadi Rum
Your eco travel experts. Bedouins will guide you in and around the Wadi Rum desert and other wonders of Jordan. Discover the soul of local Bedouin life. Come with an open heart to discover nature, animals and culture.
Our story
Can you imagine that Jordan Desert Journeys naturally arose from questions from people who responded so enthusiastically to Brenda's stories about her travels to Jordan: "That's how I want to travel to your beautiful Jordan. Can I come with you next time? " Now we're your local and eco travel specialists for Jordan and introduce you in the Bedouin life in Wadi Rum.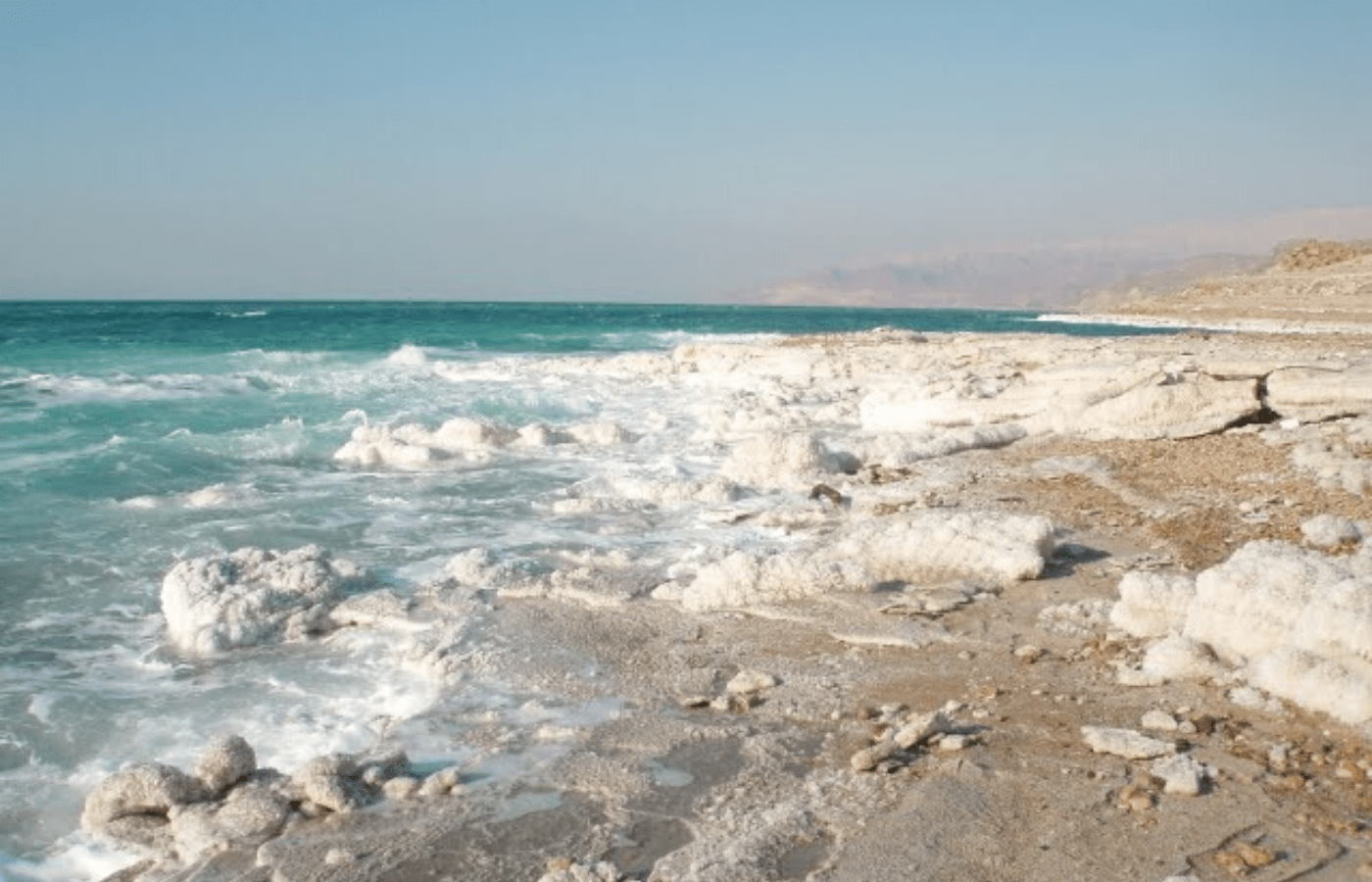 Business trip
Brenda: "My first trip to Jordan was in 2003 was a business trip because I became an importer of the La Cure brand,  a cosmetics company based on Dead Sea minerals. I wanted to get to know the people in the company and experience the Dead Sea for myself, as well as travel around a bit. I went through Petra, Jerash, Aqaba and Wadi Rum.  On my way back to the Netherlands, I immediately got homesick and had to plan another trip to Jordan. In 2005 I hosted my first tour."
Immigrating to Jordan
In 2009 I moved to the desert near Wadi Rum and the guests kept coming. I make different travel programs, but the tailor-made trips are a favorite, especially with a multi-day stay in the desert.
Partners
I met Abdullah in 2010. Together we specialized in Jordan Desert Journeys and continued to grow from there. When we met, he spoke a few words of English and I hardly spoke Arabic. Our communication was made possible through a mutual friend who would interpret, who was also the one who introduced me to Abdullah as the best local guide of Wadi Rum.
School of learning
As I continued hosting tours in Jordan, I learned first hand that it is better not to cooperate with some people because they put their personal gain first. I became homeless and began sinking quite deep to get back on my feet, thankfully the aforementioned close friend who introduced Abdullah and I, invited me into his family. When our friend, sadly, passed away, Abdullah took me into his family as his "sister."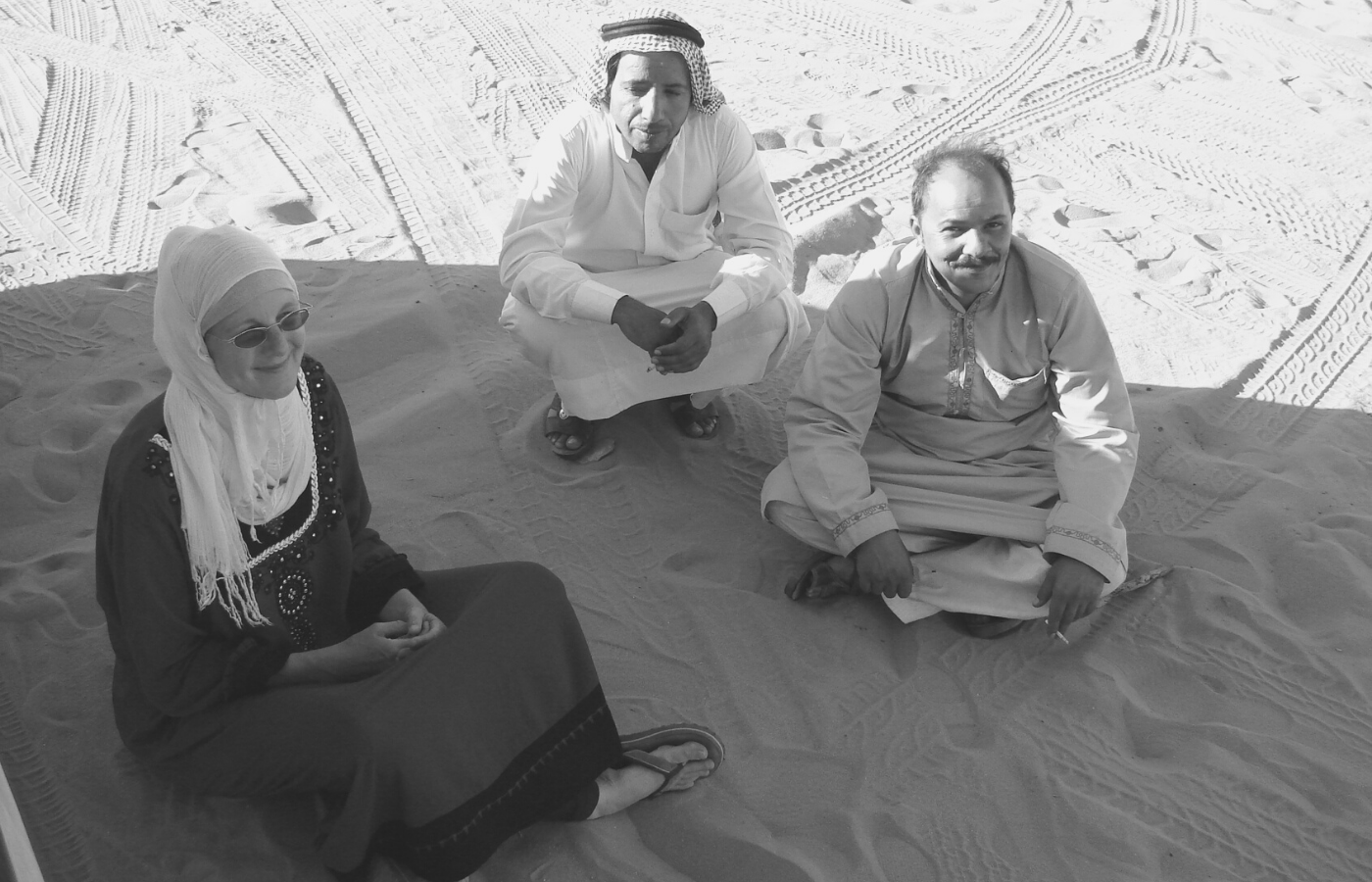 Our vision on the travels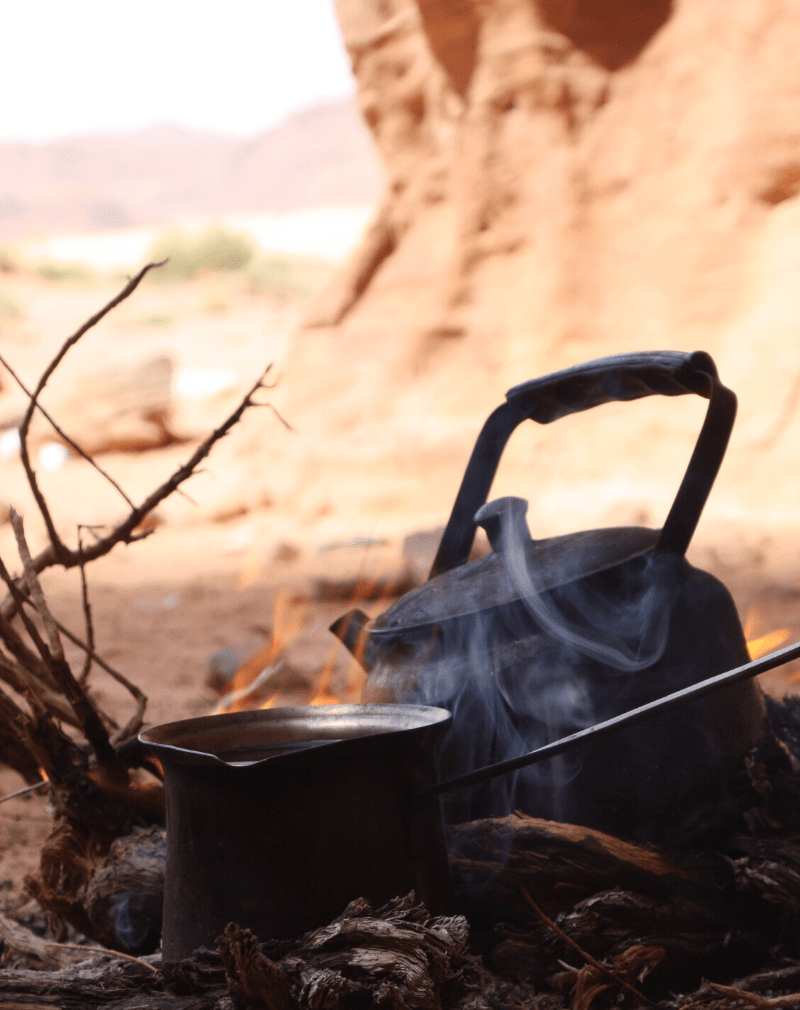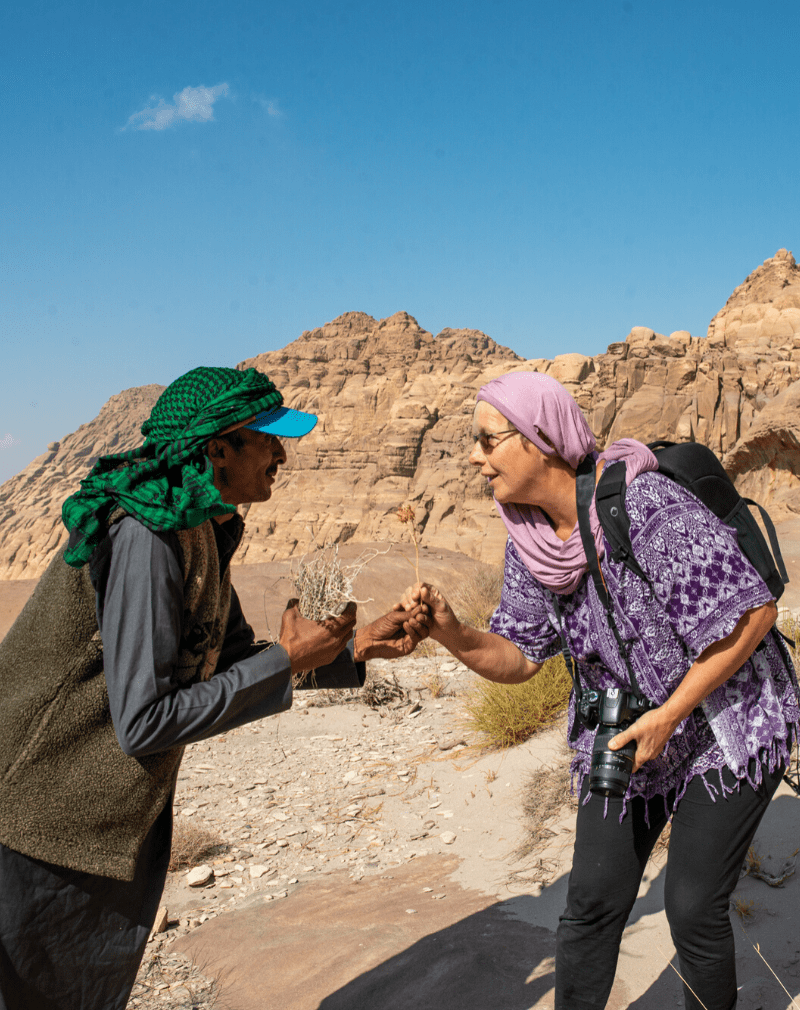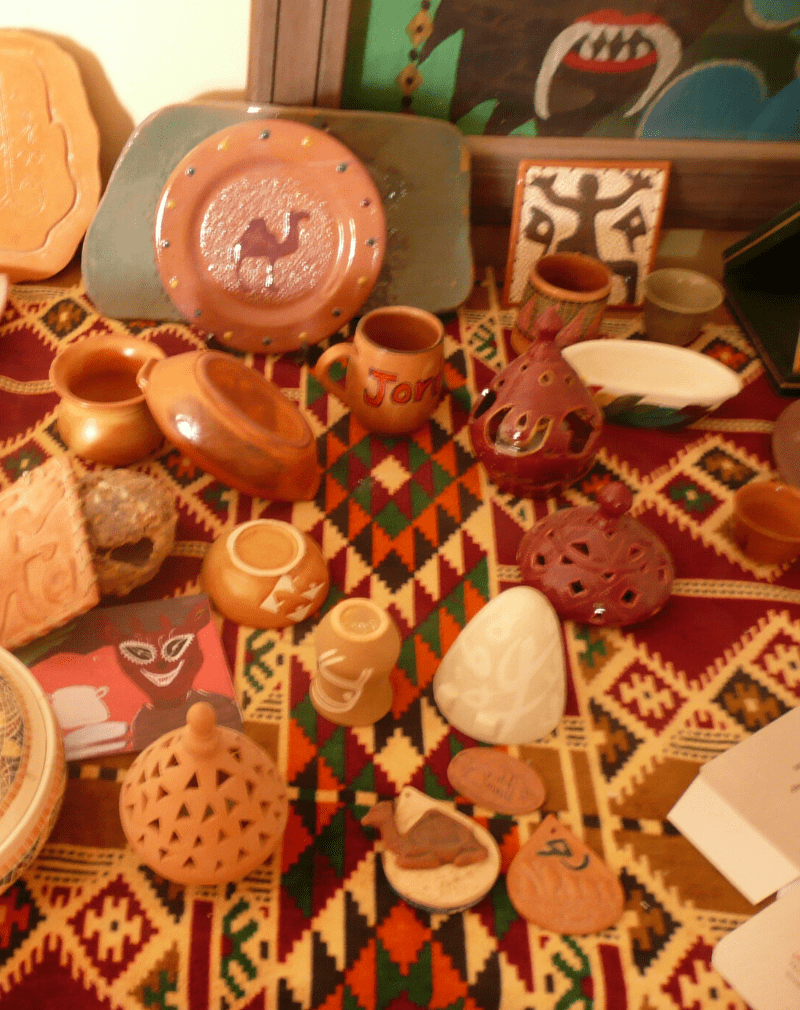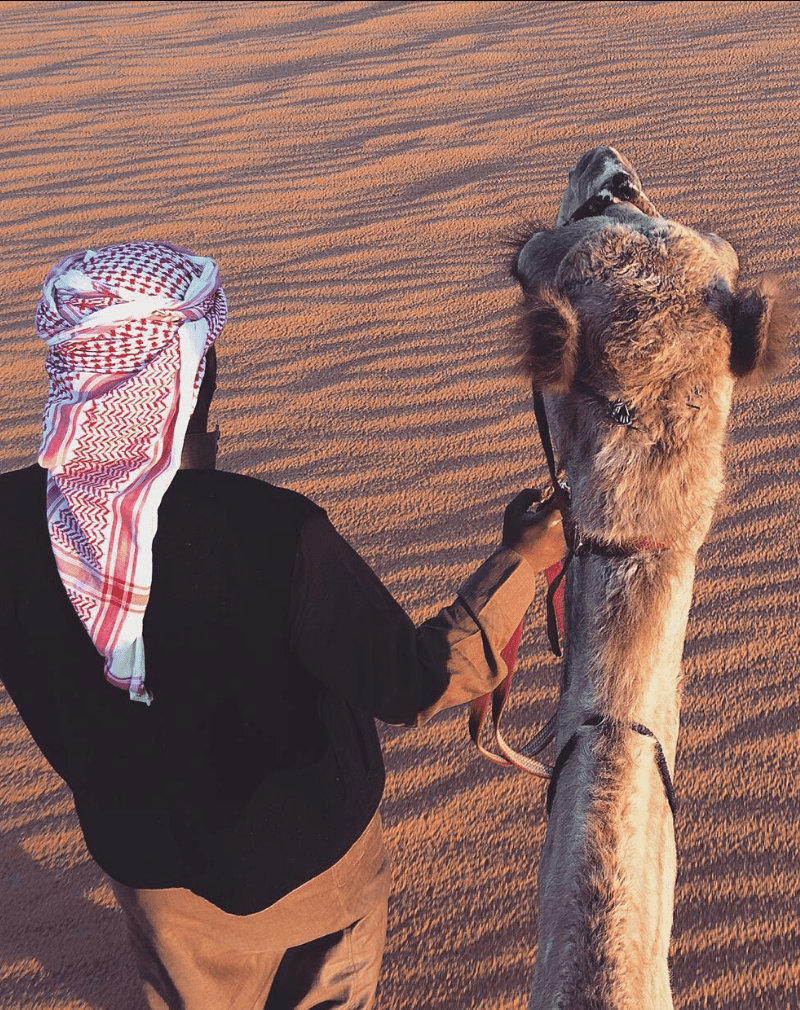 Bedouins, Abdullah en Brenda
Our heart is in the desert and with the animals. We treat both with love. It is our home, the animals are our friends. Traveling with us means coming home with us.
Abdullah and Brenda share two different cultures, but came together through their love of the desert. Abdullah, who grew up here, knows the desert like the back of his hand. He knows how to find the hidden places that would normally be passed by. Brenda has lost her heart in the desert, has become a Bedouin and likes to share her passions for history, plants and Bedouin life.
Authentic Desert Experience
Traveling with us is an authentic way to experience the Wadi Rum desert, admire the most spectacular views and details. Abdullah now speaks English, a little bit of Dutch and Brenda Arabic.
Because every guest is unique, we personalize every trip. We do not run a fixed program, but involve you in perfecting your journey. We are happy to take you wherever your heart desires and let you experience real desert life. For example, if you want to forage for wild herbs to make a special tea, Abdullah will take you to find wild thyme. You will experience the highlights of Wadi Rum, but you will also see the most beautiful and remote areas the desert has to offer.
Discover the Real Desert
Usually, Desert tours follow a fixed route. We avoid these as much as possible in order to introduce you to the most vast, quiet and intense parts of the desert. The desert is equally beautiful and varied everywhere. We would like to give you the real desert experience, rather than a typical tourist one that everyone who visits experiences. Occasionally, we will visit a nomadic Bedouin family. It is not a standard because these families roam freely and sometimes settle very far away, we also do not want to overload them with tourists. Please let us know in advance if this is something that you are interested in. While we see merging with the nomads as having a positive impact, we don't want to flood their authentic traditions and overwhelm them with tourism.
View our tours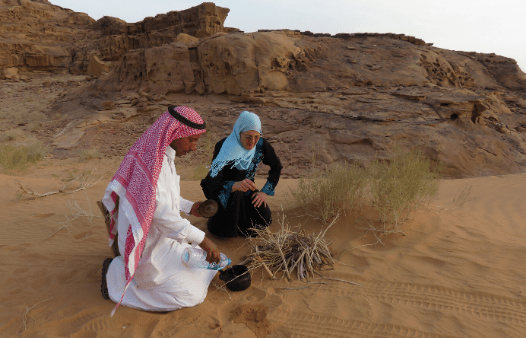 Abdullah Alzwaydeh
Abdullah is a desert man—a Bedouin in heart and soul. Nobody can navigate the vast openness like he can. He was born and raised in a traditional Bedouin tent with his family in Wadi Rum. He absorbed his wisdom from the desert and it has made him the man he is today.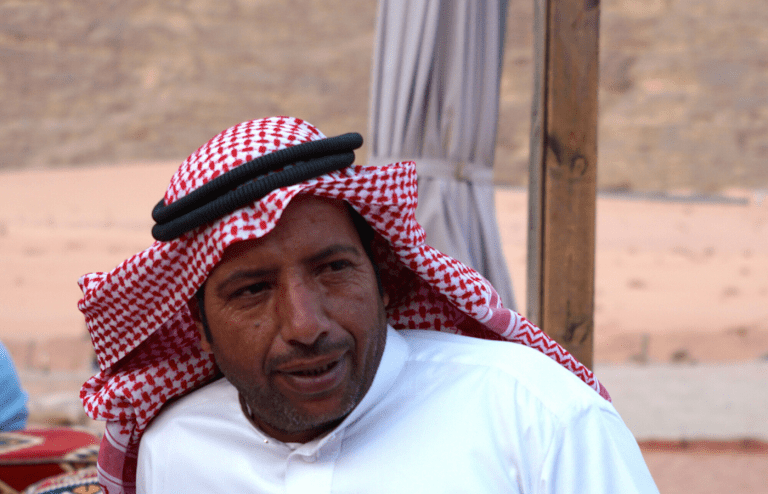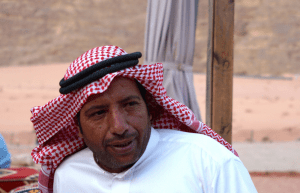 Abdullah is the local point of contact and will manage the details of your trip. He is a fantastic teacher with a lot of patience. He takes care of the logistics of each Desert Journey, down to the smallest details. Abdullah is a fantastic cook and will make you the most delicious meals out of the simplest ingredients in his primitive desert kitchen (please discuss with us in consultation about what we will eat during longer journeys).
Bedouin of the desert
He knows the most beautiful and safest sleeping places in nature, where you will be able doze off while staring at the limitless stars in the night sky.  Although Abdullah currently lives in the village with his family, he prefers to stay in the desert where he can turn off his phone, and delve deeper into the philosophical issues of life without disruption. During retreats, he is a great support system and loves to have in-depth conversation with the guests.
Abdullah's specialties:
Although he has many specialties, his heart is with the horses. He cares for them and trains them with so much love and patience. He truly is one with the horses and the horses see him as a natural leader. With Abdullah, the herd shows so much trust because they know that they are being listened to. He also loves camels, and is able to control these elegant, but sometimes very stubborn animals with ease.
Languages: Arabic, English and some Dutch.
Abdullah's Recommendations:
"Begin your journey on the Arabian Desert horses. They will carry you on your long journey, day and night.  The horses are such sensitive, beautiful creatures with so much style. We will sleep under the stars and wake up to the sun rising over the most beautiful vistas. We will ride through canyons, past artistically shaped rocks, rock drawings, and water reservoirs.
Together we will pass through ever changing colors of sand – from deep red, to yellow, to white and black. I will help you to discover the desert animals and explain to you the difference between the track of a wild dog and a wolf. I will take you to forage for the herbs and plants that Bedouins use to make medicinal teas. You will experience my desert, the desert where I feel alive and at home."
Brenda van den Brink
Brenda will be your point of contact throughout your journey. She accompanies most guests into the desert to work with therapies, meditations and healings. She will also serve as your guide on camel or horseback and will take you on magnificent walks and climbs.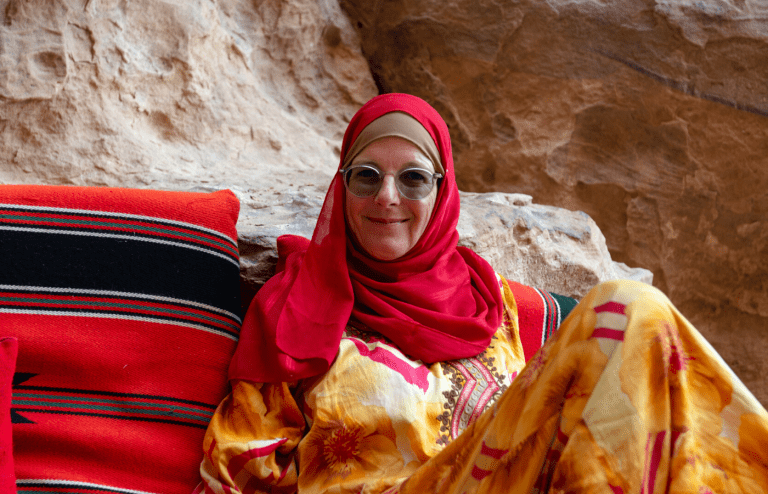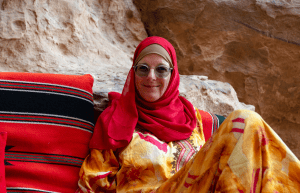 By now Brenda knows the desert better than many native Jordanians. She has lived with the Bedouin for a while and even spent nine months living in a desert tent with her horses. She can teach you everything you need to know about Bedouin history, life and culture. Brenda's body and soul live in the Wadi Rum desert.
Brenda's specialties
There is nothing that Brenda is more passionate about than animals. Her home is always filled with stray dogs and cats, and, like Abdullah, horses are her passion. She loves to see the herd run free in the open desert and does everything she can to have them live a wild life. Additionally, Brenda was born with healing gifts. During your Desert Journey, she will share these gifts with you by combining Bedouin therapies with Western techniques. She uses the energy and tranquility of the desert to find meaning and balance your body, mind and soul.
Languages: Dutch, English, Frisian and Arabic
Brenda's Recommendations:
"A horse journey helps to build a deeper connection with not only yourself, but your horse. By using natural horsemanship as a basis to build a soul-level bond and better understanding. While you are riding, I listen to what the horse has to stay about you and pass it on. If you choose to go on a hiking or camel journey, I let you walk or ride in silence in order to form a deeper connection with yourself. It is so beautiful for me to see and guide your desert transformation. The growth I witness on each retreat is transformative."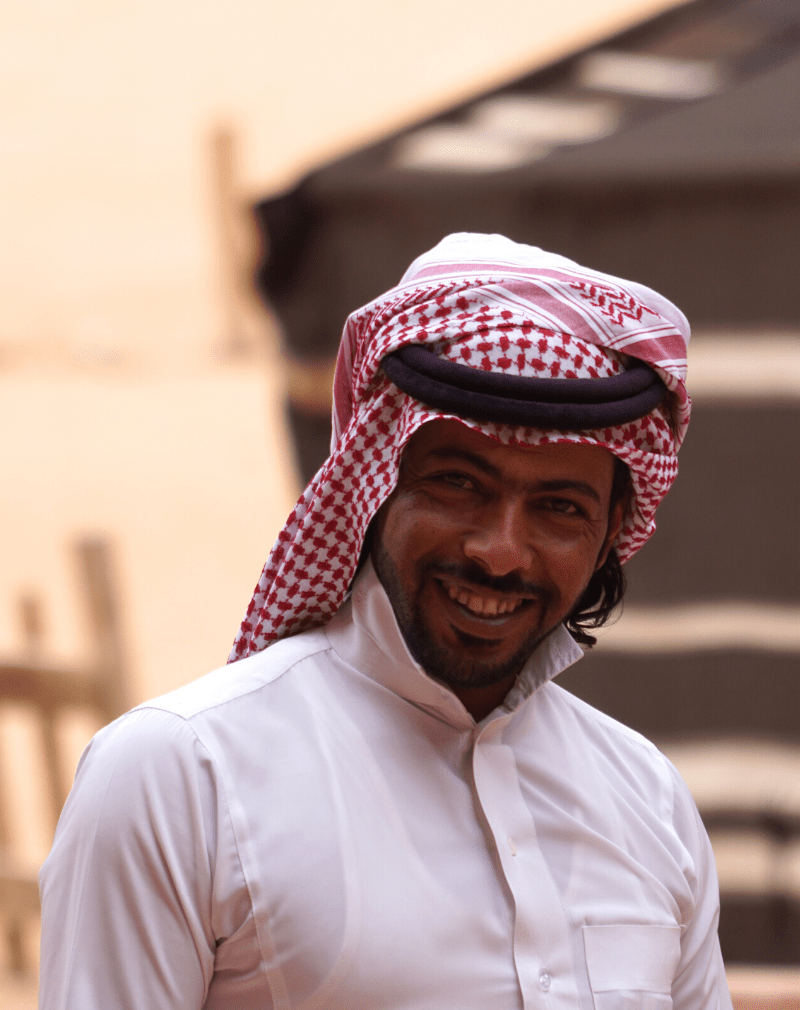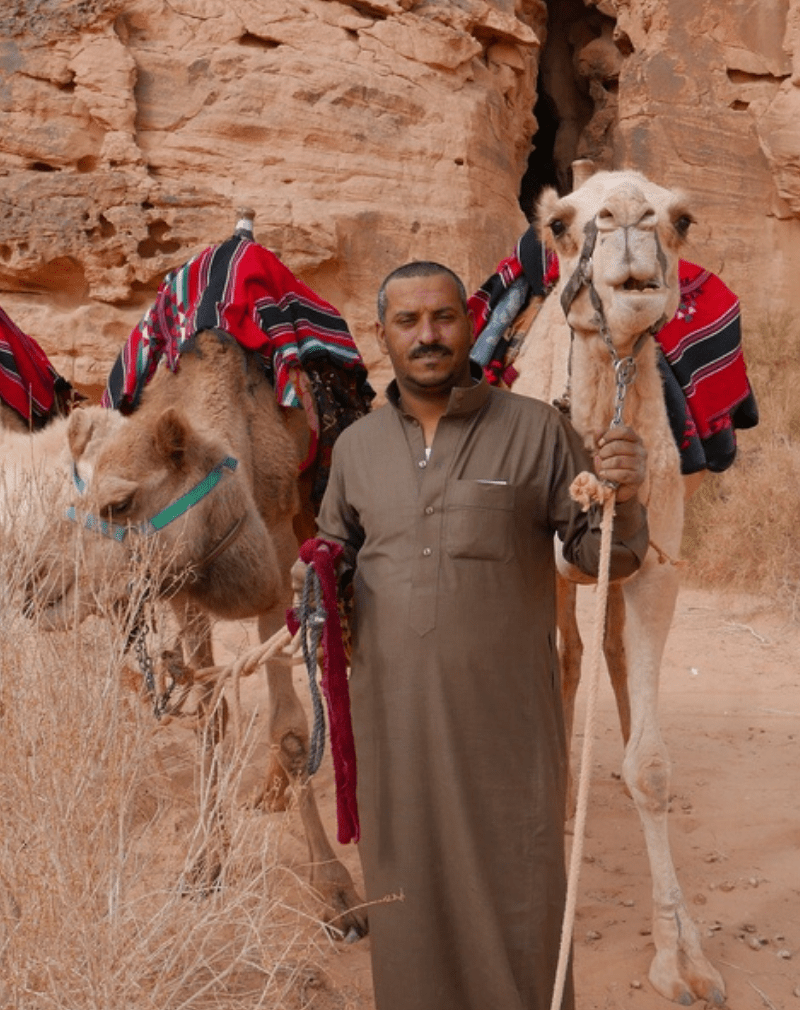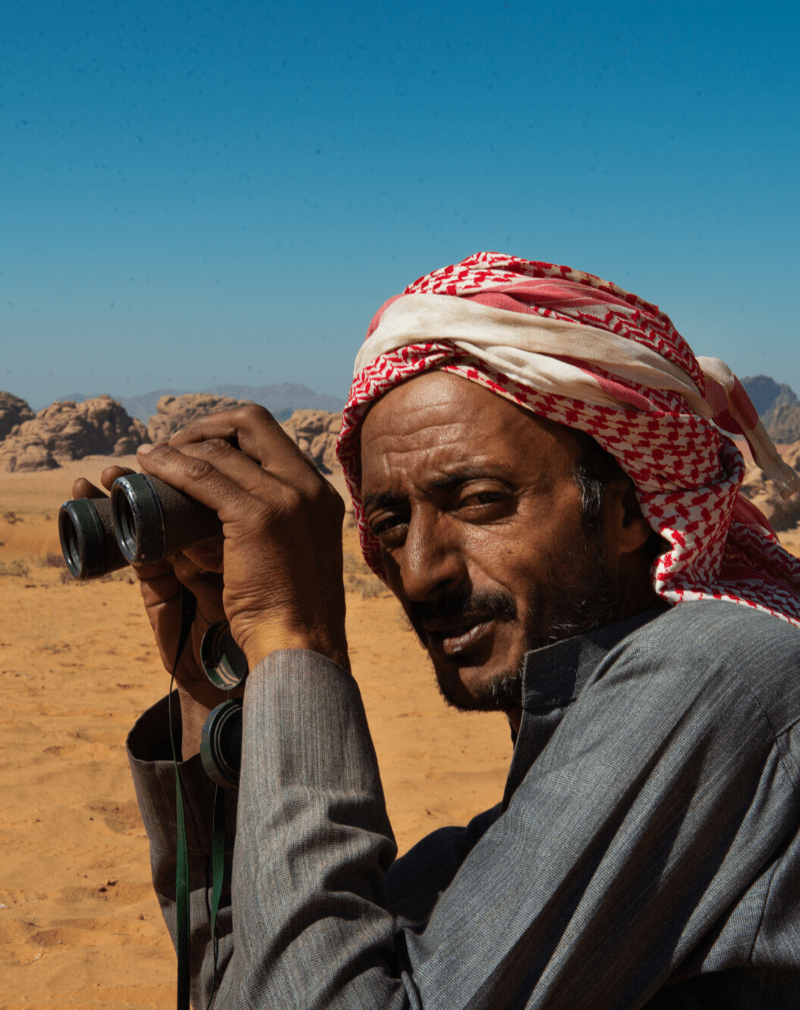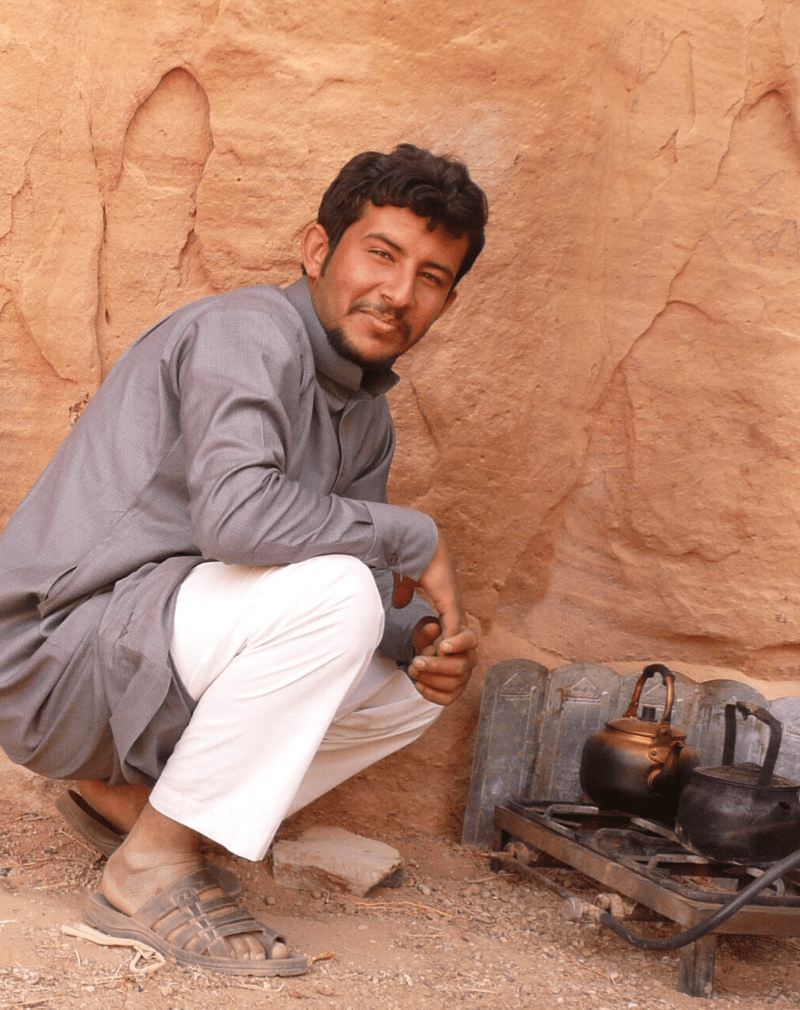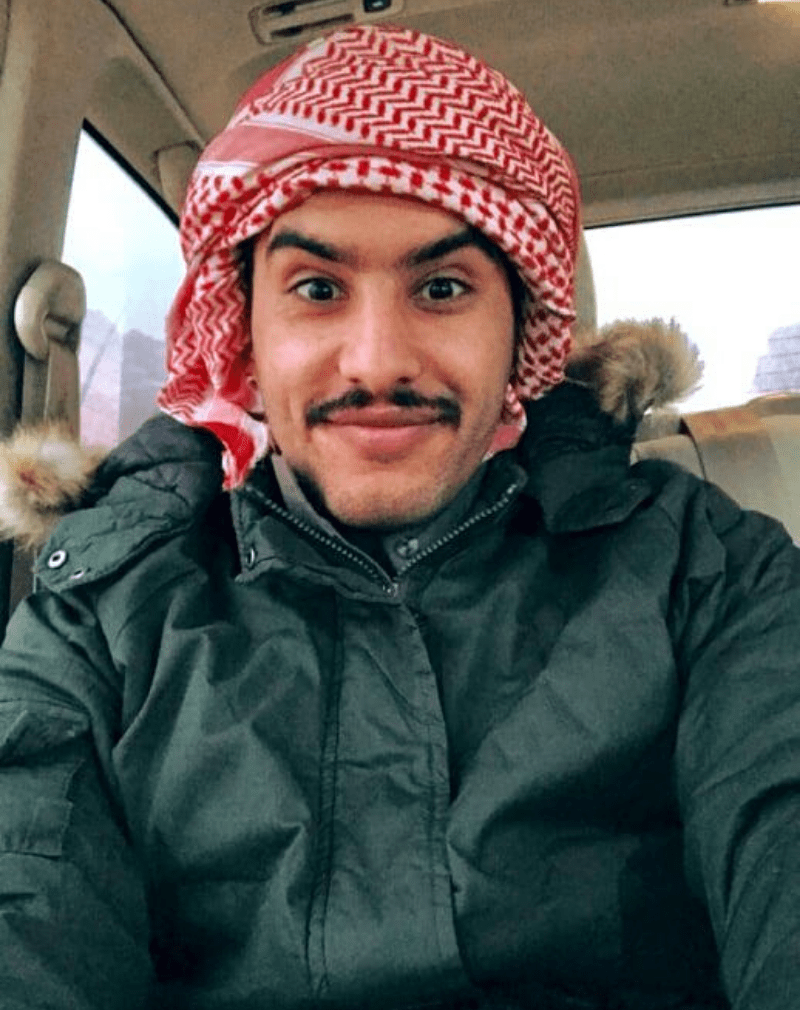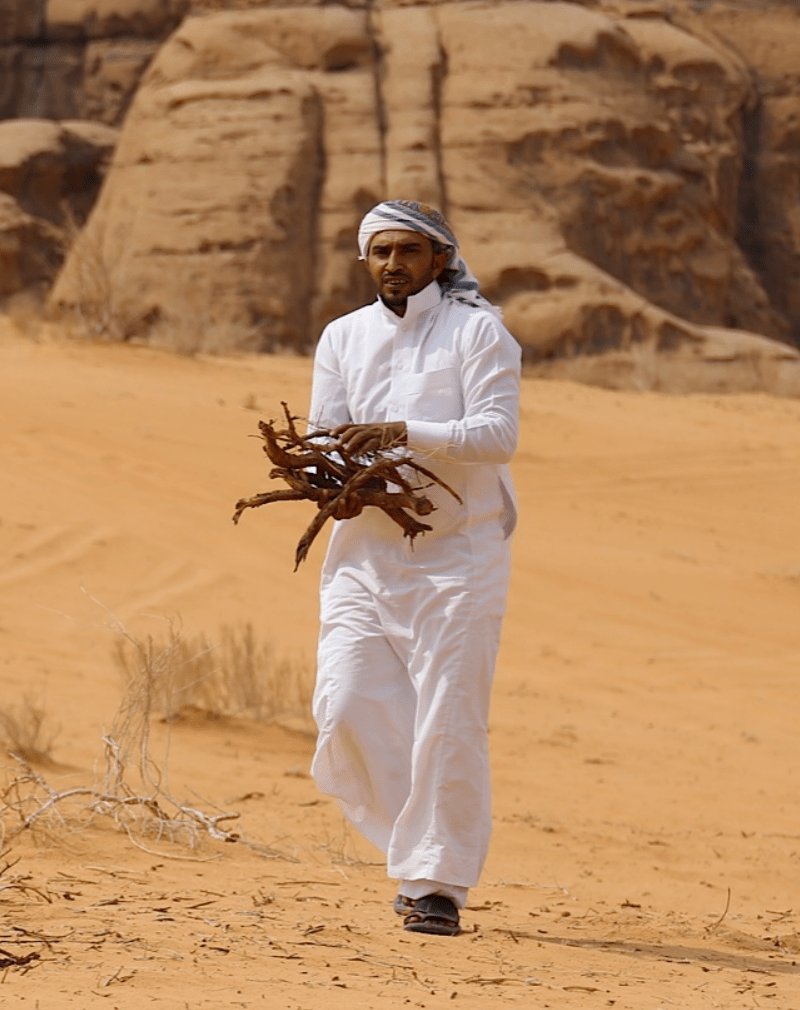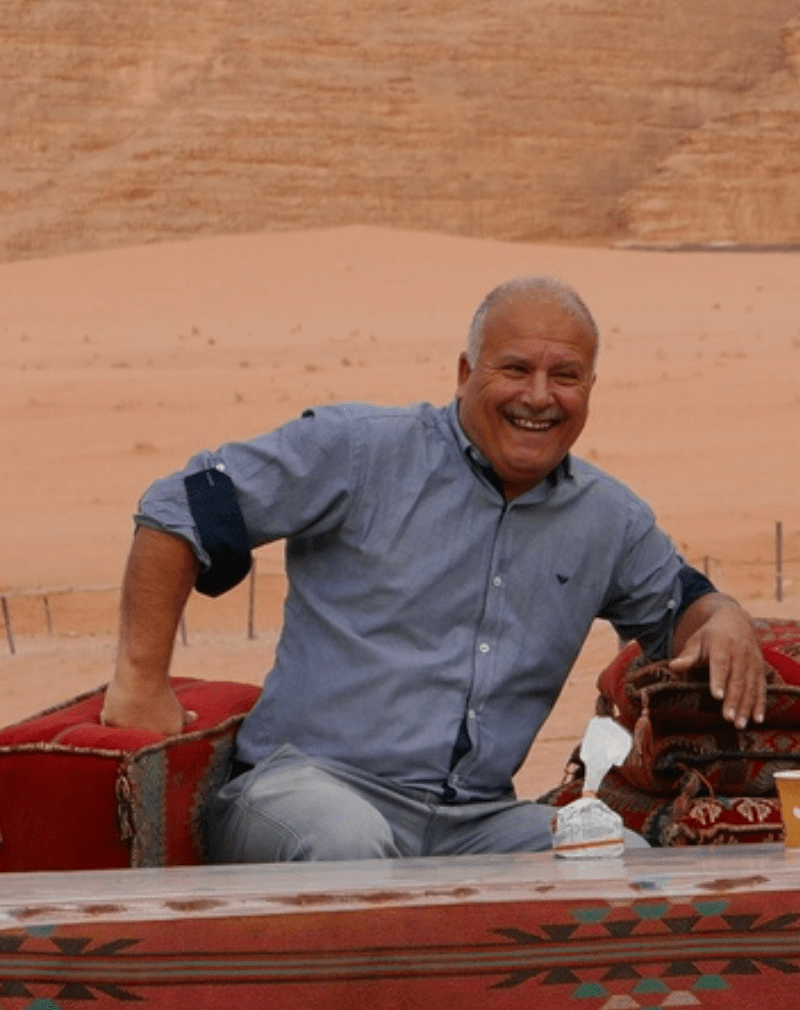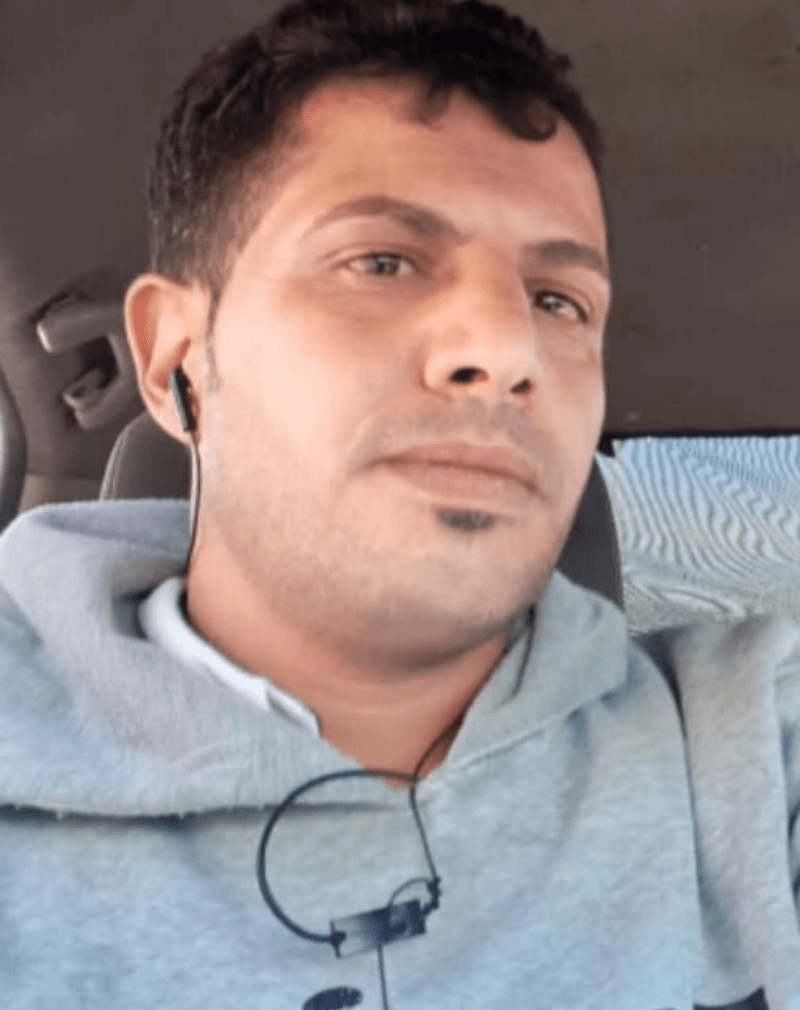 Do you want to be the first to receive news about distinctive journeys and retreats in Jordan, tips and new blogs?